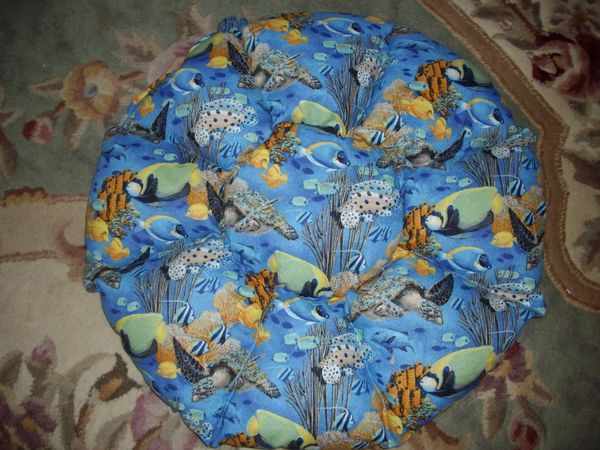 Round Cat Bed
NEW ITEM!
Well, not exactly new. I haven't made these beds in 7 years due to an injury, so it should be "Back in Stock".
Keep kitty comfy cozy with our Flower Bed Design.
This design is a combination Cat bed/Cat Mat that not only keeps kitty comfortable but are great for keeping Kitty's hair off the furniture. They can be placed anywhere, chair, couch, or on the floor as a play mat for toys and TV watching, and cat napping.
Each catnip bed is made with a distinctive print on one side and a coordinating solid or print on the reverse. I added one heaping handful of POTENT organic catnip to the center section!
Machine Wash Cold. Tumble dry. Do not iron.
Size is approximately 25" across and about 3" high.
BeWitched Cat Toys are product tested by kitties of all breeds and ages for both durability and playability. I carefully study what intrigues cats and recreate it in a unique cat toy. Through much experimentation and product testing, I have discovered the perfect colors, textures and designs to please the most paw-ticular feline.

We use only the finest POTENT Organic Catnip leaves, buds and stems in our Cat Toys, sure to cast a spell on your cat.

Featured Products