2 MINI Organic Catnip Tacos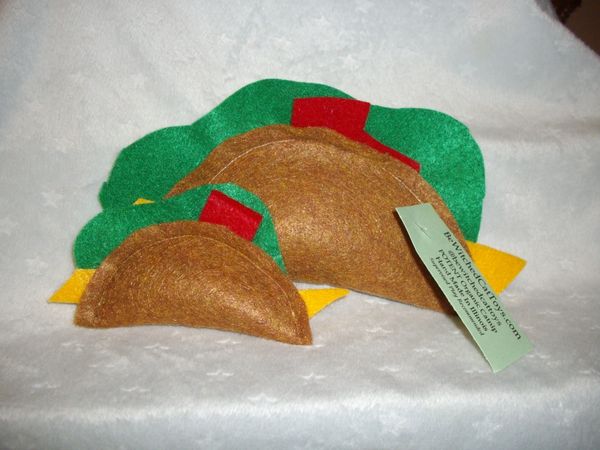 2 MINI Organic Catnip Tacos
NEW ITEM!!
Spice up your kitties' life with our set of 2 MINI catnip tacos. When I first starting making Catnip Tacos over 15 years ago, this was the original size, for kitties! And since I buy mini tacos for myself, I think kitty should have them too! There is a photo to show the size comparison.
Each Cat Toy is filled with our bewitching 100% POTENT Organic Catnip. Made from high quality felt and poly-fil to retain its shape.
Measures approximately 3 inches.
BeWitched Cat Toys are product tested by kitties of all breeds and ages for both durability and playability. I carefully study what intrigues cats and recreate it in a unique cat toy. Through much experimentation and product testing, I have discovered the perfect colors, textures and designs to please the most paw-ticular feline.

We use only the finest POTENT Organic Catnip leaves, buds and stems in our Cat Toys, sure to cast a spell on your cat.

Featured Products